[All exhibition photos by me]
I visited the Ron Arad exhibition at the Barbican on Monday. The exhibition is called Restless and there is an underlying theme of movement. Chairs have mechanisms causing them to spontaneously rock back and forth, and there are bouncing and sliding bookcases. The pieces of sculpture are really beautiful and he used so many exciting materials: wicker covered in resin, steel, woven mesh, found objects. It was so frustrating not being allowed to touch anything!
A bit of background about
Ron Arad: He was born in Tel Aviv, he moved to London in the 1970s to study architecture and made his name in the early 1980s as a self-taught designer-maker of sculptural furniture. He now works across both design and architecture.
Although we weren't allowed to test these particular chairs, some looked really comfortable and I can see that he's studied the contours of human body. But other pieces were clearly just experimental art and would have been quite painful to perch on!
I think the following chair is so elegant. I love the way the seat flows into a carpet...
In the piece below, the end of the rails lift up then lower causing the round bookcase to slide across the rails. I was expecting it to roll the whole length like a giant wheel, but it only moves a small distance. It's still impressive though.
This is a light sculpture that projects squiggly lines across every surface of the room. One of my friends lightly pushed the dome and and it caused the squiggles to go crazy and move around the room. It looked like the walls were moving and felt quite disorientating!
At the end of the exhibition there is an area where visitors are able to test out some pieces of furniture, which was fun. Some of the pieces looked really funky but were really uncomfortable or dangerous to sit on. But maybe we were swinging on the rocking chairs too violently! Here are a couple of my favourites: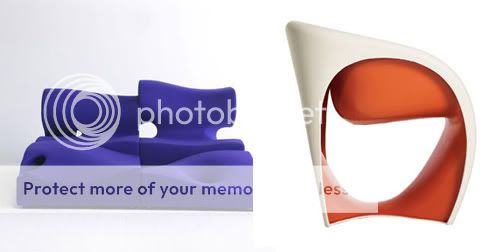 [Image from Bonluxat]